If  you are planning to produce a TV show, the production can only start when you find a studio that has everything you need. When it comes to spaces for filming, Capital Power TV has it all – from small blank canvas spaces for simple projects, to big studios in Abuja. Many talented film producers have already discovered the potential of Capital Power TV, so what are you waiting for? We will guide you through the whole process of renting and filming in a professional studio, and make sure it goes smoothly and stress free!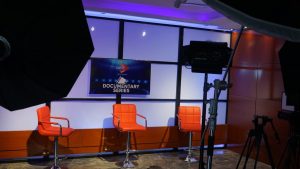 Things to consider when renting our TV Studio
Location: Where do you want your shoot to take place? When it comes to choosing the right location for your studio, there are a few things you should take into account. First, does everyone have easy access to your location of choice? When it comes to that, Capital Power TV studio would be your best bet, because of direct access as it is located in National Assembly Quarters Apo, very secured and accessible
Additional equipment:  From studio gear to various props, there are a lot of different things needed for a video production. Luckily, many venues specializing  in film and TV productions do not have such equipment but in Capital Power TV, we have all the equipment you need.
Crew: We have the best crew on the ground to work with you. if you are renting our studio space, we will advice that you also hire our crew who can easily operate our equipment. its a win-win situation for all of us.
When hiring our film and tv studio it is best to understand your requirements ahead of time. our studios generally offer a range of large and small  stages, as well as other important spaces for rehearsal, makeup and dressing rooms. . Basic technical equipment may be included as part of the rental agreement, however, be sure to clarify this ahead of time.
To rent our studio space
Call/WhatsApp: +234-803-884-3041
Email: info@capitalpowermultimedia.com